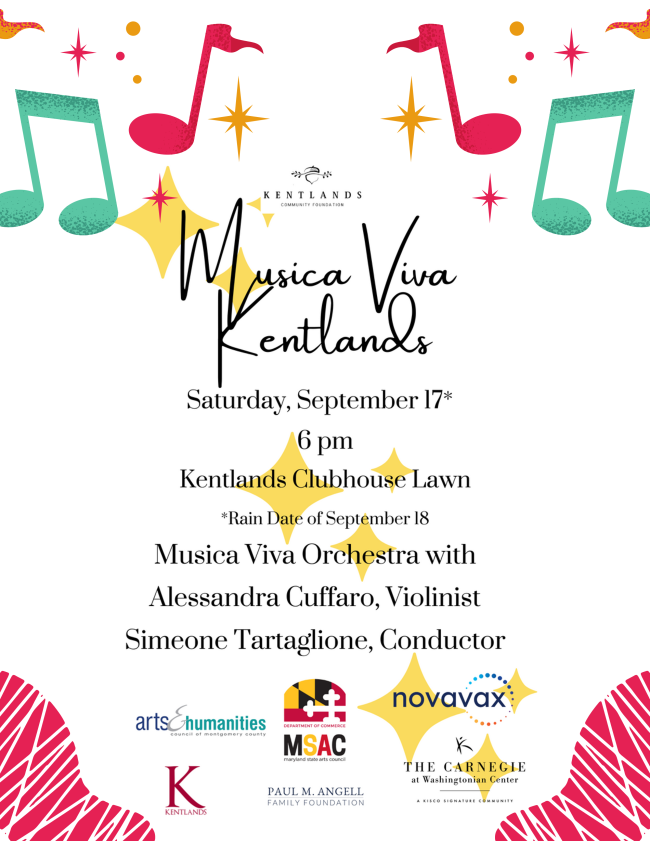 MUSICA VIVA 2022
Join the Kentlands Community Foundation for the Musica Viva Kentlands classical music concert on Saturday, September 17 at 6 pm on the Kentlands Clubhouse Lawn. The Musica Viva Kentlands Orchestra is under the direction of Maestro Simeone Tartaglione with a special performance by Alessandra Cuffaro, violin soloist. The program includes "New World Symphony" by Dvorak and "Blue Danube" by Strauss. Be ready to find out what Maestro Simeone has in store for you this year!
A special thank you to the Kentlands Citizens Assembly for their support of this concert and for hosting this community event.
Bring your lawn chair, pack a picnic dinner and enjoy this concert under the stars.
Donations to help defray the cost of this concert and to ensure that the concerts can continue for years to come.
CLICK HERE TO DONATE