In the 1980's, the concept of new urbanism was born as an alternative to the sprawling single-use developments of post-WWII neighborhoods. The principles of new urbanism focus on how cities were structured centuries ago with walkable blocks, accessible public spaces, and high density. 
Envisioned by Joseph Alfandre, championed by the City of Gaithersburg and community, and designed by DPZ, Kentlands is one of the first new urbanist communities in the United States and serves as a landmark for the movement.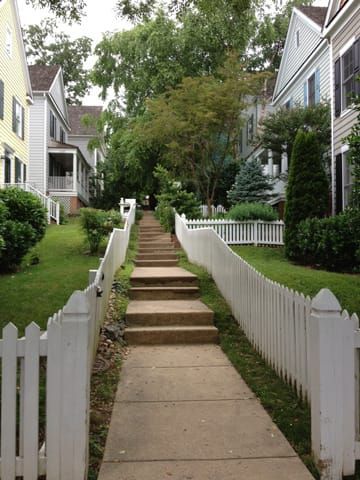 The New Urbanism is a reaction to sprawl.
A growing movement of architects, planners, and developers, the New Urbanism is based on principles of planning and architecture that work together to create human-scale, walkable communities.
"About once a week we receive a call from someone who has read about one of the new towns we've designed, and is prepared to move almost anywhere to experience the sense of community described. Our first response is to ask the caller to consider one of the older towns that has served as our inspiration.  Frankly, as residents of traditional communities ourselves, we wonder why someone would want to live in a brand-new development rather than a neighborhood that has matured over generations of use."
(Duany, Plater-Zyberk, Speck, Suburban Nation)
This Innovative Suburb Once Seemed Like a Failure
Why Kentlands has now become surprisingly influential.
On The Ground At The Kentlands Community, Maryland
A layman's impression of a D.C.-area New Urbanist development
Gaithersburg's Kentlands neighborhood, 'new urbanism' in full flower
The Kentlands community, started in 1988, was constructed over more than a decade. With multiple builders used to ensure that the houses were architecturally distinct, the result is a quaint and beautiful neo-traditional or "new urbanist" community in the city of Gaithersburg, Md.
Kentlands | Congress for the New Urbanism
Built over 30 years ago, the Kentlands neighborhood of Gaithersburg, Maryland, was designed to be one of the first New Urbanist towns in America.
Kentlands, the Washington area's first community shaped by New Urbanism
This year marks the 25th birthday of "Kentlands," the Washington region's first new suburban community shaped by "New Urbanism" principles. 6/2014
Kentlands Docent-Led Walking Tour
The Kentlands Docent Program was launched at the 2003 15th Anniversary Community Celebration. Led by key members of the Kentlands Community Foundation Board and dedicated volunteers from the New Urbanism Committee, the official walking tour covers a lot of ground ? both literally and figuratively!
Beginning each April and continuing through October, trained Docents are available to give tours by request, preferably to groups of (4) or more. Guests should reserve a space for a Tour at least 1 week prior by contacting the Foundation. Special requests for tours of larger groups may be accommodated with more advanced notice. Tours last approximately an hour and a quarter, cover close to 2.5 miles, and begin and end at the Carriage House, located directly next to the Gaithersburg Arts Barn.
All guests will receive a Kentlands Walking Tour Guide and a brochure on the Principles of New Urbanism and Traditional Neighborhood Development.
A suggested donation of $5 per guest is recommended, and all proceeds benefit the Foundation. Guests will also have the opportunity to purchase the hand-drawn Kentlands Map, which benefits the Foundation, as well.
All inquiries regarding Docent Tours should be directed to the manager of the Kentlands Community Foundation, via telephone at 301-926-6636 or via e-mail. To learn more about the Kentlands Community Foundation, please visit our History section.
For more information about the Foundation, please call 301-926-6636 or e-mail us.
Keep up to date with what is happening in one of the leading neo-traditional / new urbanist communities.  Kentlands helped define the movement.

Drop Us a Line
Don't be shy. Let us know if you have any questions!
Stay Up To Date With The Kentlands
Join our mailing list to stay up-to-date on the latest Kentlands community news, organizations, and events.